Maine Journal
July 7, 1999
I made it to Boston without a hitch. Some famous athlete (basketball player?) was sitting across the aisle from me with his two kids. I liked the way he handled his kids. Caught the 1:15 bus out of Logan headed to Dover. Yea! We were delayed because of last-minute boarders, so I shouldn't have to wait for Juicey too long at Dover. Hoped against hope that smile would surprise me at Logan. No such luck. Record heat seems to have broken. Temperatures are tolerable with a brisk sea breeze.
---
July 8, 1999
Slept under a sheet with the windows open...heaven! After talking with CharlieJack, sending an offline message to RD (who, by the way, NEVER fired up icq the entire time I was gone), and checking e-mail, rydah made a surprise appearance. He's all Texas...cowboy boots and hat.

Click to see the larger image.
Juicey and I pick plump sweet peas from Mom and Dad's garden. There's a commonality of experience. Black-eyed pea purple thumbs are replaced with green as we shell the sweet peas. Mom is happy to see us. Her rose bush tumbles abundantly over the arbor.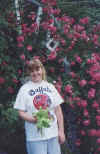 Click to see the larger image.
Wild raspberries volunteer out of a tree trunk. Supper is chicken (it's Shake & Bake, and I helped), those garden-fresh peas, garlic mashed potatoes and corn. Rick and Diane stop by...boisterous, huggable. Ziban has helped them quit smoking. On to Dunkin' Donuts for Coffee Coolatas. No caffeine. Doze in the lounge chair. Life is good.
---