Maine Journal 2
July 9, 1999
Hurrah! B*U*D got to start his vacation a day early! Bear decided to "snuggle" with me this morning. Somehow, the sentiment was lost on me. I grind our coffee in the bathroom and Juicey is surprised to see it made when she wakes up. We take a trip to the Goodwill store. Juicey finds shorts, Levi's and a silky blouse. Penney's has Levi's for B*U*D. On to Sack & Save to sniff the bread. We get ingredients for Mediterranean Shrimp and Pasta. Even half a recipe makes a huge bowl. B*U*D goes to target practice while we're shopping. Ricochet pellet hits him in the ribs. Juicey contemplates hiding the shotgun.
---
July 10, 1999
ROJO night! Spend the morning waiting for Daniel to arrive at noon. He's delayed by Gemma's late return from New York. Go "garage saling". Find a pasta fork, blender and shotgun rack. Blender makes excellent mudslides. Daniel finally arrives and the SLC Gang makes ROJO at the Panda by nine. No bad pants...no tank tops. God, it's good to hug Daniel.

Click to see the larger image
We're joined at the Panda by Rick and Diane, Pete and Lesa, and Papa and MamaFen. ROJO hugs. ROJO looks good, but too skinny-bony. Daniel loves his ROJO CD and ROJO autographs it, "Rock on". Slow dance with Daniel...bliss. Band's female singer does Melissa Etheridge poorly. Final set. "One More Song" and Juicey and I go into Ronnette mode. "Mercedes Benz" and ROJO extends his hand, pulls Juicey to the stage and she joins him with a soulful look in her eyes.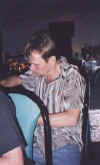 Click to see a larger image of ROJO.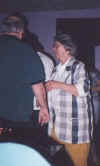 Click to see a larger image of Papa and MamaFen.

Click to see a larger image of Daniel and wompie.
Click to see a larger image of Rick and Diane.

Click to see a larger image of the whole gang.

Click to see a larger image of Juicey and ROJO.