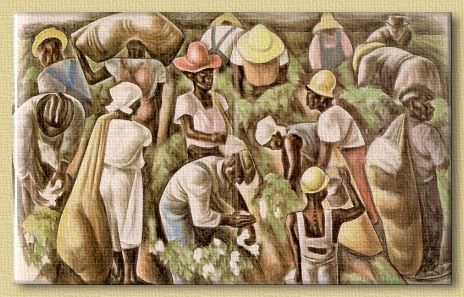 Howard Cook
1901-1980
"Alabama Cotton Pickers"

The South is steeped in tradition, rich in cultural heritage. Southern drawls range from barely perceptible to so thick and syrupy they seem to drip off the speaker like the Spanish moss drips off the trees in the Southern regions. Conjure up a land of sultry, humid days spent lazily sipping mint juleps on the veranda. A land where every occasion is remembered for the food that was served and how much of it. A land where the rolling hills of the North give way to the sprawling-for-miles flatland farms of the Delta to the Coastal regions with their white-sand beaches and that Mighty Mississippi River rolling into the Gulf of Mexico. Explore with me, if you will, the ever-changing face of the Deep South.


Things Mississippi is famous for:


Its Magnolias


Its "Steel" Magnolias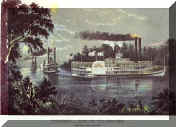 Its Riverboats


Its Watermelon

Its Kudzu


Its Cotton


Its Writers

And, of course, its Music

"Wompuss has painted a warm, inviting picture of her homestate, Mississippi. Very nice graphics, soothing music, fun facts and, recipes are just a few of the goodies you'll find on this award-winning Tripod Hometown site! Please take some time to drop by and visit. You won't be disappointed!" 10/19/99
and Honorable Mention in the Hometown Pod June, 1999 Newsletter


"Pick a Bale of Cotton"
Background and title graphic from: