The Cabin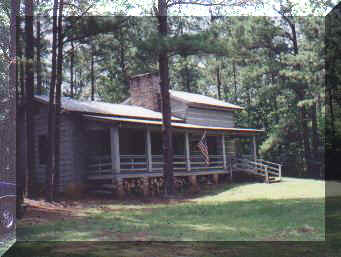 "There's a lot of history here."

L. C. and Marie have a cabin which is partially built from logs from a log cabin constructed around 1860. The cabin is located at Gin Branch near Bay Springs.
The cabin, completed in 1986, has a lot of "built in" history. The cabin was built around a two-story log cabin, with front porch and side room.
The original log cabin portion is believed to have been constructed in 1860. It belonged to the Christopher Columbus (Lum) Lester family and was located on the edge of the Little Brown Bottom, about three miles east of New Site.
L. C. and Anna Marie purchased the original log cabin in 1984 from Vonceil Pounds. It was necessary to move the 104-year-old cabin
2 -1/2 miles to it's new home at Gin Branch.
All went well until the log room were some 100 feet from their destination. Then it all fell apart. "I was tempted to quit," L. C. recalled. "But I didn't. And we've really enjoyed it."
"He'd always wanted a log house," Anna Marie added.
It took a lot of determination and hard work to achieve the finished product. After the old logs fell apart, there was no way to put them back together exactly as they were. But L. C. didn't give up; and today he and his family have a rustic log cabin surrounded by whispering pines and a view of the Tenn-Tom.
L. C. did much of the work himself and all of the "chinking" between the logs. He used a mortar mixture of lime, sand and cement he obtained from a restorer of log cabins in Canton.
The cabin, a pleasing combination of old and new, has five rooms and two baths. There is no television or telephone. "Those are no-nos," said Anna Marie. There is a fireplace. Central heat and air have also been installed. "The foundation blocks are made of rich, virgin pine," says L. C.. "They were set on the ground about 100 years ago and they're still sound."
In addition to the logs from the original Lester cabin, ceiling beams in the kitchen came from the old Bay Springs Lodge and also from an old store building located next to the lodge. The brick came from Anna Marie's great-uncle's home.
The original log cabin is 18 x 18 feet. That room and the sleeping loft have the original floors which have been sanded to restore their luster. There are three doors in the original log cabin. These doors are less than six feet high and are decorated with square nails. The added-on cabin kitchen has all the comforts of home, plus a wood cookstove. The kitchen also features a bay window. The kitchen table belonged to L. C. and Anna Marie's great-grandmother.
In the original log cabin is an upright piano, a spinning wheel and a framed photograph of Mr. and Mrs. Lester, who once occupied the cabin over 100 years ago.
Living in the Gin Branch area is nothing new for L. C. He was raised on a farm about 1/2 mile from his "new-old" cabin, and knew the area well before the Tenn-Tom came into existence.
Anna Marie describes the cabin as "rugged." "It's like the early settlers had. The cabin is built to suit us and our grandchildren can enjoy it and play in it. We don't worry about how they play. We enjoy our cabin. We like this kind of atmosphere."
L. C. and Anna Marie have three sons and eight grandchildren.
~ excerpt from The Banner Independent Thursday, Dec. 17, 1987 by Angela Smith, Staff Reporter ~

Background set courtesy of:

[About Me] [Hawaii Nei] [Resume] [MS Delta] [SLC Gang] [Friendship] [Friendship Links] [Wishful Wisteria Wishes]
[Recipes and Culinary Arts Links] [Culinary Arts Web Ring] [Appetizers] [Meats,Fish and Seafood] [Vegetables] [Breads] [Desserts] [Merry Crispness! Recipes] [For Mummy] [Ho Ho Ho] [For RD] [Romance] [Happy Valentine's Day]
[For Mummy's Birthday] [Easter Greetings] [Fantastic Fourth of July] [The Cabin] [The Dash] [Daddy] [Ella]
[Web Rings] [Awards] [Microsoft FrontPage Tutorial] [Microsoft FrontPage Tutorial II] [Publish Your MSFP Web]
[Publish at Tripod] [Snow Globes] [Snow Globes 2] [Autumn Snow Globes] [Fantasy Snow Globes]
[Native American Snow Globes] [Native American Snow Globes 2] [Pussycat Globes] [Victorian Globes]
[Lighthouse Globes] [For Wolf Woman] [Favorite Links] [My Graphics Site] [My Cat Herder Site]