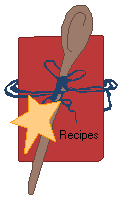 Homemade Hot Chocolate
(yummified! just like you remember as a child)
1/2 cup coffee creamer
1 Cup Nestle Quick
1 cup confectioners sugar
2 1/2 cups non-fat dried milk
miniature marshmallows (optional)
Mix all ingredients together in a large bowl. This mix makes an excellent Christmas present when given in a decorative storage container. Make sure to include the recipe and instructions for mixing. Mix 3-5 tablespoons in a cup of hot water, stir, and enjoy!
Pecan Butter Balls
(A wonderful holiday or anyday confection! These freeze well, so they're perfect for those make-ahead holiday goodies projects.)
Yield: 5 dozen
2 cups finely chopped pecans
2 cups sifted flour
1 cup butter (two sticks)
1/2 cup granulated sugar
2 teaspoons vanilla extract
1/4 teaspoon salt
confectioners sugar (for rolling cookies in)
Chop pecans. Combine with flour and salt. Cream butter, sugar and vanilla. Combine with pecan mixture; mix until well blended. Gather into a ball. With floured hands, shape dough into one-inch balls. Bake on an ungreased cookie sheet at 325 degrees F. for approximately 20 minutes. Cool completely. Roll in confectioners sugar.
Black-Eyed Susans
(A family recipe from the South...sweet, succulent dates encased in flaky cheese pastry)
1 cup unsalted butter, room temperature
1 pound sharp Cheddar cheese, grated
2 cups all purpose flour
salt to taste
cayenne pepper to taste
1 pound pitted dates, halved lengthwise
granulated sugar for rolling finished pastries
Blend butter and cheese together. Mix with flour, salt and cayenne to form dough. Chill. Roll out thinly and cut into small rounds with a biscuit cutter. Place date half on one side of dough round; fold remaining dough over. Pinch edges together like a turnover. Bake on a greased cookie sheet at 250-300 degrees F. for about 30 minutes. Roll in sugar while hot. Serve warm.
Hot Mulled Cider
(May be prepared in advance, refrigerated and reheated. Crock pots are handy for heating cider. If you wish, you may add 1 cup of bourbon or whiskey while simmering. Enjoy!)
9 whole cloves
4 cinnamon sticks
1 cup firmly-packed brown sugar
9 whole allspice (or ground equivalent)
1 gallon of apple cider (or juice)
2 lemons, thinly sliced (apples or oranges may be used)
Combine cider and sugar. Bring to a boil.
Add spices. Simmer 15 minutes. (Tie in a cheesecloth bag or add loose and strain before serving.)
Just before serving, remove spices. Garnish serving bowl or each mug with a slice of fruit.


[About Me] [Hawaii Nei] [Resume] [MS Delta] [SLC Gang] [Friendship] [Friendship Links] [Wishful Wisteria Wishes]
[Recipes and Culinary Arts Links] [Culinary Arts Web Ring] [Appetizers] [Meats,Fish and Seafood] [Vegetables] [Breads] [Desserts] [Merry Crispness! Recipes] [For Mummy] [Ho Ho Ho] [For RD] [Romance] [Happy Valentine's Day]
[For Mummy's Birthday] [Easter Greetings] [Fantastic Fourth of July] [The Cabin] [The Dash] [Daddy] [Ella]
[Web Rings] [Awards] [Microsoft FrontPage Tutorial] [Microsoft FrontPage Tutorial II] [Publish Your MSFP Web]
[Publish at Tripod] [Snow Globes] [Snow Globes 2] [Autumn Snow Globes] [Fantasy Snow Globes]
[Native American Snow Globes] [Native American Snow Globes 2] [Pussycat Globes] [Victorian Globes]
[Lighthouse Globes] [For Wolf Woman] [Favorite Links] [My Graphics Site] [My Cat Herder Site]